Chapter 3: Concurrent Engineering and the Design Process
Traditional Engineering
Traditional engineering was carried out through sequential or "over-the-wall" methods. The engineer (or customer) would have created and designed it, then sent it "over-the-wall" to purchasing and manufacturing. Across-department communication is minimal and also expected. The time spent designing is shortened, resulting in some challenges.
Departments develop designs without good input from other stakeholders.
Challenges are not identified early and then either must go back for re-design or waste becomes "designed into product"
Overall time to produce a good quality product is increased.
Costs associated with poor design for manufacturability are locked in for the lifetime of the product.
Learn more about Sequential Engineering by selecting this link: What is Sequential Engineering?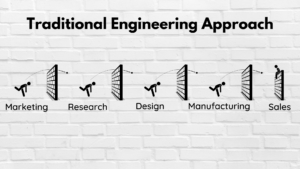 Concurrent Engineering
In order to better plan for the attributes of manufacturability, a new approach called concurrent engineering is utilized for DFMA. Concurrent engineering (also known as integrated product development and simultaneous engineering) is a method of manufacturing where different departments are working simultaneously on product development.  If the process works as intended, the process is significantly more efficient, reducing time and overall costs while improving the quality of the end product (Engineering Product Design, 2023). Below is an example of the different interactions occurring simultaneously. Learn more about the benefits of DFMA by reading the following article: Understanding DFMA
For concurrent engineering to be effective, increased departmental collaboration and communication must occur early and often in the design process. This can be challenging, as many engineers prefer to design independently and meetings can be both challenging to schedule and also time intensive.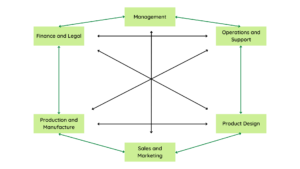 However, even though concurrent engineering increases the time spent in the planning phases, it dramatically decreases the overall time for full speed production. This happens by greatly reducing the need for engineering changes, rework, and long-term manufacturing process changes and delays due to designs whih were not effectively planned for manufacturability.
Here is an example, comparing traditional and DFMA sequences (from Vaz-Serra & Marfella (2019))
| | | |
| --- | --- | --- |
| Step | Traditional Assembly Sequence | DFMA Sequence |
| 1 | Drywall marking and installation of metal tracks (top, bottom, vertical). | Drywall marking and installation of metal tracks (top, bottom, vertical). |
| 2 | Inform the supervisor. | Inform the supervisor. |
| 3 | Plumbing trade to arrive on-site and mark noggins. | Plumbing trade installs the flat wall. |
| 4 | Inform the supervisor. | Inform the supervisor. |
| 5 | Drywall trade to install noggins. | Drywall trade to finish the wall installation with plasterboard, tiling, and painting. |
| 6 | Inform the supervisor. | Plumbing trade to install final fittings on the wall. |
| 7 | Plumbing trade to install pipes and support for fittings. | |
| 8 | Inform the supervisor. | |
| 9 | Drywall trade to finish the wall with plasterboard, tiling, and painting. | |
| 10 | Inform the supervisor. | |
| 11 | Plumbing trade to install final fittings on the wall. | |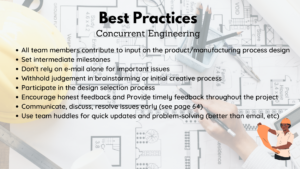 References
Divyakumar, P. (2021). Case study on concurrent engineering vs traditional engineering [Video]. YouTube. https://www.youtube.com/watch?v=1WKEu0GxcYo
Farris, J. (n.d.). Over the wall engineering. Retrieved on May 8, 2023 from https://npdbook.com/introduction-to-stage-gate-method/the-era-of-specialization-and-over-the-wall-design/
Hegedic, M., Stefanic, N., Niksic, M. (2018). Life cycle assessment: Assessing the environmental impact in the railway maintenance. MATEC Web of Conferences, 180(5). doi: 10.1051/matecconf/201818001004