Chapter 2: DFMA Goals
How does reducing costs make an impact?
Reducing costs increases profitability, but only if sales and prices are constant. If costs reductions affect quality, then potential games are lost or sales occur. And, this could lead to profit or net losses.  It is important that when making change total costs are being evaluated rather than simply reducing materials or manufacturing costs.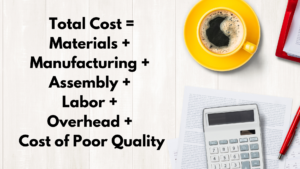 How much money can be saved?
On average, according to DFMA (2023), these are the expected results:
50% cost reduction
60% time reduction in assembly
45% product development time reduction
54% reduction in part counts
Case Study
Before moving on, please read this article on How to Manufacture Success. After you've read the article, review the following slides and answer the check your understanding questions.
Additional Case Studies:
References
Boothroyd Dewhurst, Inc. (2018). What is DFMA? [Video]. YouTube. https://www.youtube.com/watch?v=H6XtXCvhaec
Boothroyd Dewhurst, Inc. (2010). Case study: Desgin in cost reduction. Quality Magazine. Retrieved on May 8, 2023 from https://www.qualitymag.com/articles/84738-case-study-design-in-cost-reduction
DFMA (2023). How do you reduce cost while still achieving function, reliability, and time to market objectives? Retrieved on May 8, 2023 from https://www.dfma.com/
Dong, D., Zou, Y., Pan, H., Zhou, G., Feng, Y., & Tang, Y. (2023). DFMA-oriented modular and parametric design and secondary splitting of vertical PC components. Scientific Reports, 13. https://doi.org/10.1038/s41598-023-30192-z
Favi, C., Mandolini, M., Campi, F., Cicconi, P., Raffaeli, R., & Germani, M. (2021). Design for manufacturing and assembly: A method for rules classification. Advanances on Mechanics, Design Engineering, and Manufacturing III. https://doi.org/10.1007/978-3-030-70566-4_56
Formentini, G., Rodriguez, N., & Favi, C. (2022). Design for manufacturing and assembly methods in the product development process of mechanical products: A systematic literature review. The International Journal of Advanced Manufacturing Technology, 120. https://doi.org./10.1007/s00170-022-08837-6
Liu, H., Zhang, Y., Lei, Z., Li, H., Han, S. (2021). Design for manufacturing and assembly: A BIM-Enabled generated framework for building panelization design. Smart Manufacturing for Industrialized Construction. https://doi.org/10.1155/2021/555455
Maverick, J. (2023). Is it more important for a company to lower costs or increase revenue? Investopedia. Retrieved on May 8, 2023 from https://www.investopedia.com/ask/answers/122214/company-it-more-important-lower-costs-or-increase-revenue.asp
de Oliveira, S., dos Santos, M., Kieling, A. (2021). The integration of DFMA and reverse engineering applied to a landing gear redesign. Journal of Engineering and Technology for Industrial Applications, 7(31). https://doi.org/10.5935/jetia.v7i31.775
Roxas, C., Bautistia, C., Cruz, O., Dela Crus, R., De Pedro, J., Bungca, J., Lejano, B., & Ongpeng, J. (2023). Design for manufacturing and assembly and design for deconstruction in the construction industry: Challenges, trends, and developments. Buildings, 13(5). https://doi.org/10.3390/buildings13051164
Siemens (2023). Design for manufacturing and assembly. Retrieved on May 8, 2023 from https://www.plm.automation.siemens.com/global/en/our-story/glossary/design-for-manufacturing-and-assembly-dfma/53982