Chapter 5: Mood Disorders
---
Overview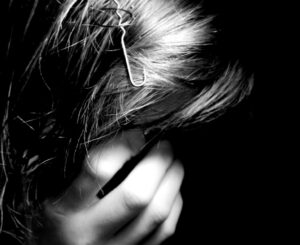 Mood disorders are defined as severe disturbances in mood and emotions, usually depression, but can include mania. There are two general categories of mood disorders, depressive related disorders and bipolar related disorders. Depressive disorders are generally characterized by sadness and hopelessness to the point that it significantly impairs the functioning of the individual. Bipolar disorders usually have mania as the key characteristic, which is extreme elation but also agitation. The manic episodes can lead to reckless behavior and attempts at multi-tasking, to the point of impaired functioning within the individual.
Depressive Disorders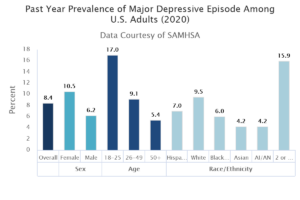 Depressive disorders involve the person feeling excessively sad, empty, or hopeless most of the day and a loss in interest in activities previously enjoyed. In order to receive this diagnosis, they must experience a minimum of five symptoms for at least two weeks and must impair the individuals' functioning. Furthermore, the individual must not have symptoms caused by substances or another medical condition (OSC Rice University; APA, 2013).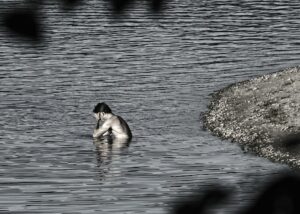 Symptoms: significant weight or appetite changes; significant changes in sleep habits; psychomotor agitation or retardation; fatigue; feelings of worthlessness or guilt; lack of concentration or indecisiveness; suicidal ideation. (OSC Rice University; APA, 2013).
Results: this is a serious disorder than can drastically effect someone's life, creating a rather miserable existence for them. Many times these individuals have experienced some form of discrimination. Depression can cause health-related medial problems in the future if not treated. (OSC Rice University; APA, 2013).
Disorders present in this category: Disruptive mood dysregulation disorder, major depressive disorder (single episode, recurrent episodes), persistent depressive disorder (dysthymia), prementstrual dysphoric disorder, substance/medication-induced depressive disorder, depressive disorder due to another medical condition, other specified depressive disorder, unspecified depressive disorder.
Typical Medications: Selective Serotonin Reuptake Inhibitors (SSRIs), Serotonin-norepinephrine Reuptake Inhibitors (SNRIs), Atypical antidepressants, tricyclic antidepressants, monoamine oxidase inhibitors (MAOIs), or another potential medication. Learn more from the Mayo Clinic (2022).
Case Studies to Review:
Bipolar and Related Disorders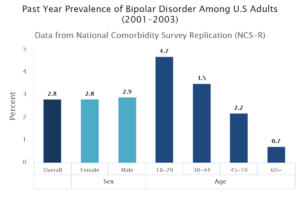 Bipolar disorder is typically characterized by extreme mood swings between sadness and happiness (typically called manic or euphoria). There should be at least one manic episode documented, in order for this to be the diagnosis. APA defines a manic episode as a "period characterized by elevated, expansive, or irritable mood" and often these things include psychomotor agitation, excessive talking, racing thoughts, delusions of grandeur, and more (APA, 2022). Additionally, mood disorders, like bipolar, seems to have a genetic component (Lumen Learning). There are three major types of bipolar disorder: Bipolar I, Bipolar II, and Cyclothymic Disorder.
Bipolar I has a single or recurrent manic episode. Depressive episodes, again, not necessary, but common. (Lumen Learning)
Bipolar II is identified by hypomanic episodes and depressive episodes, instead of more severe manic episodes from Bipolar I (Lumen Learning).
Cyclothymic Disorder has alternating periods of hypomania and depression, but it must last a minimum of two years. It is important to mention that the individual cannot be diagnosed with major depressive disorder and must experience symptoms at least half the time, causing significant distress or impairment.
Medications: Medications may include mood stabilizers, antipsychotics, antidepressants, antidepressant-antipsychotic, and anti-anxiety (Mayo Clinic, 2022).
Treatment: Frequently used treatments include medications, maintenance treatment, day treatment programs, substance abuse treatment programs, and if symptoms are severe enough: hospitalization (Mayo Clinic, 2022). Learn more from the Mayo Clinic.
Case Studies to Review:

Seasonal Affective Disorder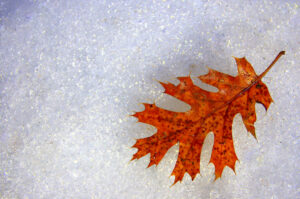 Criteria to Diagnose: Seasonal affective disorder is a depressive mood disorder that affects individuals when the seasons changes. Generally, these feelings begin in fall or winter and end during spring and summer (called winter-pattern SAD). It can also be experience in the reverse as well, where someone feels down during the spring and summer months and up during the fall and winter months (called summer-pattern SAD).  (NIMH). Sometimes this disorder also has a predictable occurence of manic episodes (APA, 2022).
Major depression includes feeling down most of the day, nearly every day, losing interest in things that once brought joy, feeling sluggish, agitated, hopeless, and having trouble sleeping and concentrating. Sometimes, in severe conditions suicidal thoughts may occur (NIMH)

In winter-pattern SAD, individuals may also experience oversleeping, overeating and weight gain, as well as social withdrawal. Those experiencing summer-pattern SAD will also experience anxiety and episodes of violent behavior (NIMH)
Typical Demographics: Millions of adults may suffer from this condition and not be aware of it. Women tend to be afflicted more often than men, though there does seem to be a geographical component to it as well. Countries that are located further north are more likely to experience this condition. SAD is more prevalent in those that have other mental disorders.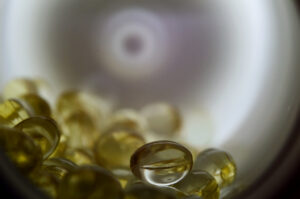 Treatment, Medications, Therapies: There are several ways to treat SAD. Psychotherapy is a common solution, but also light therapy, antidepressants, and Vitamin D can combat the symptoms of SAD.
Case Studies to Review:

---
References:
American Psychiatric Association (n.d.) What are personality disorders? APA. Retrieved on August 18, 2022 from https://www.psychiatry.org/patients-families/personality-disorders/what-are-personality-disorders
American Psychological Association (2022). Seasonal affective disorder. APA. Retrieved on August 19, 2022 from https://dictionary.apa.org/seasonal-affective-disorder
American Psychological Association (2022). Manic episode. APA. Retrieved on August 17, 2022 from https://dictionary.apa.org/manic-episode
Black, D. W., & Grant, J. E. (2014). DSM-5® Guidebook : The Essential Companion to the Diagnostic and Statistical Manual of Mental Disorders, Fifth Edition: Vol. Fifth edition. American Psychiatric Association Publishing.
Canazei, M., Weninger, J., Pohl, W. et al. (2022). Effects of dynamic bedroom lighting on measures of sleep and circadian rest-activity rhythm in inpatients with major depressive disorder. Sci Rep 12, 6137 https://doi.org/10.1038/s41598-022-10161-8
Höller Y, Jónsdóttir ST, Hannesdóttir AH and Ólafsson RP (2022) EEG-responses to mood induction interact with seasonality and age. Front. Psychiatry 13:950328. doi: 10.3389/fpsyt.2022.950328
Johansson C and Werbart A (2020) Am I Really Bipolar? Personal Accounts of the Experience of Being Diagnosed With Bipolar II Disorder. Front. Psychol. 11:482715. doi: 10.3389/fpsyg.2020.482715
Khan Academy Medicine (2015, September 4). Types of depression and bipolar disorder in the DSM-5 [Video]. YouTube. https://www.youtube.com/watch?v=eSXZwk8axmI
Lumen Learning (n.d.). Mood disorders. Abnormal Psychology. Retrieved on August 17, 2022 from https://courses.lumenlearning.com/wm-abnormalpsych/chapter/mood-disorders/
Mayo Clinic (2022). Depression (major depressive disorder). Diagnosis. Retrieved on August 18, 2022 from https://www.mayoclinic.org/diseases-conditions/depression/diagnosis-treatment/drc-20356013
Mayo Clinic Health System (2018, January 11). Seasonal affective disorder [Video]. YouTube. https://www.youtube.com/watch?v=TWtrS8Qvo1Q
National Institute of Mental Health (2022). Major depression. NIMH. Retrieved on August 18, 2022 from https://www.nimh.nih.gov/health/statistics/major-depression#part_2631
National Institute of Mental Health (2022). Bipoldar disorder. NIMH. Retrieved on August 18, 2022 from https://www.nimh.nih.gov/health/statistics/bipolar-disorder
National Institute of Mental Health (2022). Seasonal affective disorder. NIMH. Retrieved on August 19, 2022 from https://www.nimh.nih.gov/health/publications/seasonal-affective-disorder
O'Donovan C and Alda M (2020) Depression Preceding Diagnosis of Bipolar Disorder. Front. Psychiatry 11:500. doi: 10.3389/fpsyt.2020.00500
OSC Rice University (n.d.). Diagnosing and classifying psychological disorders. Pressbooks. Retrieved on August 10, 2022 from https://opentext.wsu.edu/ospsychrevisions/chapter/diagnosing-and-classifying-psychological-disorders/
Psych2Go (2018, March 3). 5 types of depressive disorders [Video]. YouTube. https://www.youtube.com/watch?v=PbJB02Zlh4w
Sparacino, G., Verdolini, N., Vieta, E. et al. (2022). Existing and emerging pharmacological approaches to the treatment of mania: A critical overview. Transl Psychiatry 12, 169  https://doi.org/10.1038/s41398-022-01928-8
van Hout, L.J.E., Rops, L.E.P. & Simons, C.J.P. (2020). Treating winter depressive episodes in bipolar disorder: an open trial of light therapy. Int J Bipolar Disord 8, 17  https://doi.org/10.1186/s40345-020-00182-5
Yang Y, Zhang S, Zhang X, Xu Y, Cheng J and Yang X (2020). The Role of Diet, Eating Behavior, and Nutrition Intervention in Seasonal Affective Disorder: A Systematic Review. Front. Psychol. 11:1451. doi: 10.3389/fpsyg.2020.01451
Zhang T, Wang L, Bai Y, Zhao W, Wu Y, Jiang W, Fan Q and Qiu J (2021) Mindfulness-Based Cognitive Therapy in Major Depressive Disorder: A Study Protocol of a Randomized Control Trial and a Case–Control Study With Electroencephalogram. Front. Psychiatry 12:499633. doi: 10.3389/fpsyt.2021.499633