Chapter 4: Anxiety Disorders
---
Overview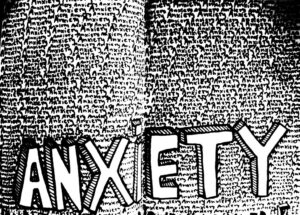 Anxiety disorders are those that are characterized by fear, worry, or excessive apprehension (APA, 2022). Disorders included in this section are generalized anxiety disorder, phobias, panic disorder, social anxiety disorder, separation anxiety disorder, and obsessive compulsive disorder.
Generalized Anxiety Disorder
Criteria to Diagnose: Generalized anxiety disorder involves excessive worry or apprehension about an array of things; the worry is usually coupled with restlessness, fatigue, lack of concentration, agitation, and sleep issues. Generally, it has to impair regular functioning for at least months or more. Generalized anxiety disorder affects roughly 2% of the US population (American Psychiatry Association, 2022).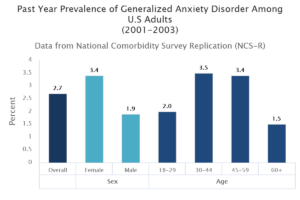 Treatment, Medications, Therapies: Medications often used for this disorder are antidepressants, Buspirone (anti-anxiety medication), and benzodiazepenes. There are many alternative opportunities to help someone cope with generalized anxiety disorder (Mayo Clinic, 2017).
Lifestyle and home remedies include: exercise, sleeping well, relaxation techniques, healthy eating, avoid substances, and eliminate stimulants like nicotine and caffeine (Mayo Clinic, 2017).


"Group Therapy" by Judy Robinson-Cox is licensed under CC BY-ND 2.0.

Coping with this disorder also means adhering to the prescribed treatment plan, breaking vicious cycles and replacing them with virtuous cycles, and bolster plans with support from friends, family, and other supportive entities (Mayo Clinic, 2017).
Case Studies to Review:
Agoraphobia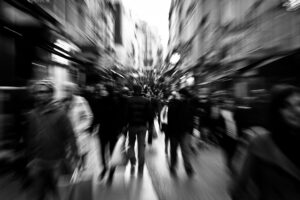 Criteria to Diagnose: Phobias are excessive and persistent fears of an object or situation (OSC Rice University; APA, 2013). Agoraphobia is the extreme fear of being unable to escape a scenario without challenges or embarrassment. Agoraphobia is present for at least six months and impairs regular functioning. Those with agoraphobia typically avoid public transportation, enclosed spaces, open spaces, standing in lines/crowds, or being outside of their home environment. Left untreated, those with agoraphobia may not ever leave their home (American Psychiatric Association).
Typical Demographics: Specific phobias range between 8-12% of US adults, while Agoraphobia is present in roughly 1-3% of adolescents and adults.
Treatment, Medications, Therapies: Generally anti-depressants and anti-anxiety medications are prescribed to individuals with agoraphobia. There are also alternative medicines like kava that are being studied and have showed significant promise in reducing anxiety. It is important that the individual adheres to their treatment plan, including attempting to experience feared situations. There are calming techniques that can help as well.
In this video below, an agoraphobic person works through their anxiety riding in an elevator. This is a 360 degree video, so you can drag the video to see all the potential perspectives.
Case Studies:
Panic Disorder
Criteria to Diagnose: Individuals afflicted with a panic disorder experience frequent panic attacks, related to fears of more panic attacks, consequences of attacks, behavior related to attacks, or a combination of all these factors. Sometimes this is comorbid with agoraphobia (APA, 2022).
Typical Demographics: Panic disorder affects 2-3% of the US population.
Treatment, Medications, Therapies: SSRIs, SNRIs, and benzodiazepenes are generally prescribed for this disorder. Other options include psychotherapy and life style changes to promote a less stressful environment and life.
Case Studies:
Social Anxiety Disorder
Review all of the following slides and video to learn more about Social Anxiety Disorder. To enlarge to full screen, select the double pointed arrow in the bottom right corner of the slides.
Separation Anxiety Disorder
Select each of the four hot spots below to learn more about this disorder. Select the icon in the upper right corner to enlarge it to full screen.
Obsessive Compulsive Disorder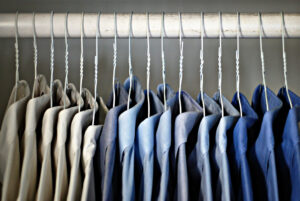 Criteria to Diagnose: This disorder involves two significant components: the obsessions and the compulsions. Obsessions are recurring, intrusive thoughts that the individual cannot ignore. The compulsions are behaviors that aim to neutralize the intrusive thoughts. A common themes is related to cleanliness, contamination, etc. The compulsive behaviors must be excessive, unreasonable, and impair functioning. Diagnosis can occur when the compulsions and/or obsessions are consuming a minimum of an hour per day (American Psychiatric Association, 2022; APA, 2022).
Typical Demographics: This disorder affects roughly 2-3% of adults in the the U.S.. Symptoms generally start to show around 19 years old, but can occur at any age. Women are slightly more likely to have this disorder.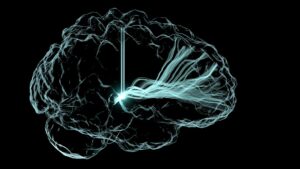 Treatment, Medications, Therapies: OCD is generally treated with either medication, psychotherapy or a combination of the two. Sometimes there are comorbities that would need to treated as well. Medications usually involve SSRIs; though it does take 8-12 weeks before the patients will experience a noticeable change (NIMH, 2022).
There is an alternative treatment option called Transcranial Magnetic Stimulation. This is FDA approved. For more information on brain stimulation therapies, check out this content from the National Institute of Mental Health.
Case Studies to Review:
Below is a 360 video, immersing the viewer into the world of an OCD person. You can move the video in any direction, as you like.
---
References:
Alkhamees, A.A. (2021). Obsessive–compulsive disorder post-COVID-19: a case presentation. Egypt J Neurol Psychiatry Neurosurg 57 (150) https://doi.org/10.1186/s41983-021-00405-1
Amendola S, von Wyl A, Volken T, Zysset A, Huber M and Dratva J (2021) A Longitudinal Study on Generalized Anxiety Among University Students During the First Wave of the COVID-19 Pandemic in Switzerland. Front. Psychol. 12:643171. doi: 10.3389/fpsyg.2021.643171
American Psychiatric Association (n.d.). What are anxiety disorders? APA. Retrieved on August 18, 2022 from https://www.psychiatry.org/patients-families/anxiety-disorders/what-are-anxiety-disorders
American Psychiatric Association (n.d.). Obsessive-compulsive disorder. APA. Retrieved on August 19, 2022 from https://www.psychiatry.org/Patients-Families/Obsessive-Compulsive-Disorder
American Psychological Association (2022). Anxiety disorder. APA. Retrieved on August 18, 2022 from https://dictionary.apa.org/anxiety-disorder
American Psychological Association (2022). Panic disorder. APA. Retrieved on August 18, 2022 from https://dictionary.apa.org/panic-disorder
American Psychological Association (2022). Separation anxiety disorder. APA. Retrieved on August 19, 2022 from https://dictionary.apa.org/separation-anxiety-disorder
American Psychological Association (2022). Social anxiety. APA. Retrieved on August 19, 2022 from https://dictionary.apa.org/social-anxiety
American Psychological Association (2022). Obsessive-compulsive disorder. APA. Retrieved on August 19, 2022 from https://dictionary.apa.org/obsessive-compulsive-disorder
Barzegar, H., Farahbakhsh, M., Azizi, H. et al. A descriptive study of agoraphobic situations and correlates on panic disorder. Middle East Curr Psychiatry 28, 31 (2021). https://doi.org/10.1186/s43045-021-00110-y
Bouchard S, Allard M, Robillard G, Dumoulin S, Guitard T, Loranger C, Green-Demers I, Marchand A, Renaud P, Cournoyer L-G and Corno G (2020) Videoconferencing Psychotherapy for Panic Disorder and Agoraphobia: Outcome and Treatment Processes From a Non-randomized Non-inferiority Trial. Front. Psychol. 11:2164. doi: 10.3389/fpsyg.2020.02164
Cardy, J.L., Waite, P., Cocks, F. et al. (2020). A Systematic Review of Parental Involvement in Cognitive Behavioural Therapy for Adolescent Anxiety Disorders. Clin Child Fam Psychol Rev 23, 483–509  https://doi.org/10.1007/s10567-020-00324-2
Difficult People (2016, May 27). The unusual suspect – An immersive story about obsessive compulsive disorder [Video]. YouTube. https://www.youtube.com/watch?v=dPVWDg4P4Nc
Emmelkamp, P.M.G., Meyerbröker, K. & Morina, N. (2020). Virtual Reality Therapy in Social Anxiety Disorder. Curr Psychiatry Rep 22(32). https://doi.org/10.1007/s11920-020-01156-1
Goodman, F. (2021, November 16). Social anxiety in the modern world [Video]. YouTube. https://www.youtube.com/watch?v=EFhP4wP1TzU
Harrewijn, A., Cardinale, E.M., Groenewold, N.A. et al. Cortical and subcortical brain structure in generalized anxiety disorder: findings from 28 research sites in the ENIGMA-Anxiety Working Group. Transl Psychiatry 11, 502 (2021). https://doi.org/10.1038/s41398-021-01622-1
Hühne V, Vigne P, de Menezes GB and Fontenelle LF (2021) The Remission of Social Anxiety Disorder After Trauma: A Case Report of Posttraumatic Growth? Front. Psychiatry 12:692637. doi: 10.3389/fpsyt.2021.692637
Hur J, Shin H, Jung D, Lee H, Lee S, Kim G, Cho C, Choi S, Lee S, Cho C (2021). Virtual Reality–Based Psychotherapy in Social Anxiety Disorder: fMRI Study Using a Self-Referential Task. JMIR Ment Health, 8(4):e25731
URL: https://mental.jmir.org/2021/4/e25731 DOI: 10.2196/25731
Karayagiz, S., Aktan, T., Karayagiz, L. (2020). Parental attachment patterns in mothers of children with anxiety disorder. Children, 7(5). https://doi.org/10.3390/children7050046
Mayo Clinic (2017). Generalized anxiety disorder. Mayo Clinic. Retrieved on August 18, 2022 from https://www.mayoclinic.org/diseases-conditions/generalized-anxiety-disorder/diagnosis-treatment/drc-20361045
Mayo Clinic (2017). Agoraphobia. Mayo Clinic. Retrieved on August 18, 2022 from https://www.mayoclinic.org/diseases-conditions/agoraphobia/diagnosis-treatment/drc-20355993
Mayo Clinic (2017). Panic attacks and panic disorders. Mayo Clinic. Retrieved on August 18, 2022 from https://www.mayoclinic.org/diseases-conditions/panic-attacks/diagnosis-treatment/drc-20376027
Mayo Clinic (2017). Social anxiety disorder. Mayo Clinic. Retrieved on August 19, 2022 from https://www.mayoclinic.org/diseases-conditions/social-anxiety-disorder/symptoms-causes/syc-20353561
McGinnis E, O'Leary A, Gurchiek R, Copeland W, McGinnis R (2022). A Digital Therapeutic Intervention Delivering Biofeedback for Panic Attacks (PanicMechanic): Feasibility and Usability Study
JMIR Form Res 2022;6(2):e32982 URL: https://formative.jmir.org/2022/2/e32982 DOI: 10.2196/32982
Méndez X, Espada JP, Ortigosa JM and García-Fernández JM (2022) Validation of the Children's Separation Anxiety Scale – Parent Version (CSAS-P). Front. Psychol. 13:783943. doi: 10.3389/fpsyg.2022.783943
National Institute of Mental Health (2022). Generalized anxiety disorder. NIH. Retrieved on August 18, 2022 from https://www.nimh.nih.gov/health/statistics/generalized-anxiety-disorder
National Institute of Mental Health (2022). Brain stimulation therapies. NIH. Retrieved on August 19, 2022 from http://aima.cs.berkeley.edu/
National Institute of Mental Health (2022). Obsessive-compulsive disorder. NIH. Retrieved on August 19, 2022 from https://www.nimh.nih.gov/health/topics/obsessive-compulsive-disorder-ocd
Olsen ST, Basu I, Bilge MT, Kanabar A, Boggess MJ, Rockhill AP, Gosai AK, Hahn E, Peled N, Ennis M, Shiff I, Fairbank-Haynes K, Salvi JD, Cusin C, Deckersbach T, Williams Z, Baker JT, Dougherty DD and Widge AS (2020) Case Report of Dual-Site Neurostimulation and Chronic Recording of Cortico-Striatal Circuitry in a Patient With Treatment Refractory Obsessive Compulsive Disorder. Front. Hum. Neurosci. 14:569973. doi: 10.3389/fnhum.2020.569973
OSC Rice University (n.d.). Diagnosing and classifying psychological disorders. Pressbooks. Retrieved on August 10, 2022 from https://opentext.wsu.edu/ospsychrevisions/chapter/diagnosing-and-classifying-psychological-disorders/
Recovery Village, The (2022). Separation anxiety facts and statistics. The Recovery Village. Retrieved on August 19, 2022 from https://www.therecoveryvillage.com/mental-health/separation-anxiety/separation-anxiety-statistics/
Shahzad, M., Suleman, M., Ahmed, M., Riaz, A., Fatima, K (2020). Identifying the symptom severity in obsessive-compulsive disorder for classification and prediction: An artificial neural network approach. Behavioral Neurology, https://doi.org/10.1155/2020/2678718
Szejko N, Fremer C and Müller-Vahl KR (2020) Cannabis Improves Obsessive-Compulsive Disorder—Case Report and Review of the Literature. Front. Psychiatry 11:681. doi: 10.3389/fpsyt.2020.00681
Thew, G., Ehlers, A., Grey, N., Wild, J.,  Warnock-Parkes, E., Dawson, R., Clark, D. (2020). Change processes in cognitive therapy for social anxiety disorder delivered in routine clinical practice. Clinical Psychology in Europe, 2(2). https://doi.org/10.32872/cpe.v2i2.2947
Yasmin F, Dapke K, Khalid MR, et al. (2021). Generalized Anxiety Disorder and Depressive Symptoms among Pakistani Population during the Second Wave of the COVID-19 Pandemic: A Regression Analysis. The American Journal of Tropical Medicine and Hygiene, 105(4):915-923. doi:10.4269/ajtmh.21-0380
Zucchelli, M., Piccardi, L., & Nori, R. (2021). The fear to move in a crowded environment. Poor spatial memory related to agoraphobic disorder. Brain Sciences 11(6). https://www.mdpi.com/2076-3425/11/6/796/htm